EZ-Spray Jr. Spray Gun - is a versatile, convenient and easy-to-use spray system for spraying moldmaking and casting materials. Available with Smooth-On's cartridges containing spray rubber, plastic or foam. Gun controls the delivery rate of material through the static mixer and air flow

Technical bulletin EZ-Spray 20 silicone
Technical bulletin EZ-Spray 35 silicone
Technical bulletin EZ-Spray Plastic
Technical bulletin EZ-Spray 45 Urethane rubber
Technical bulletin EZ-Spray Foam Sprayable Rigid Foam
Technical bulletin EZ-Spray Styrocoat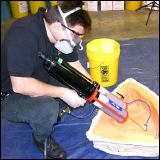 EZ~Spray® Silicone 20 is a sprayable silicone that cures quickly to a soft rubber with high elongation and tear strength. Liquid silicone is sprayed through the EZ~Spray® Junior Cartridge System which is an economical alternative to expensive spray equipment. After a suitable spray thickness is attained, EZ~Spray® Silicone 20 cures in about 10 minutes with negligible shrinkage to a strong, durable mold rubber good for production casting of polyester, epoxy or urethane resins, gypsum, concrete and other materials.

EZ~Spray® Silicone 20 is effective at making fast, cost effective vacuum bags for producing composite parts. Newly sprayed or injected bags can be removed from the mold in 10 minutes and used immediately in production with polyester or epoxy resin systems. The advantage that EZ~Spray® Silicone 20 offers vs. conventional vacuum bagging systems is the speed at which a production-ready silicone bags can be made resulting in significant time and labor savings.Yield - Each cartridge contains 3.75 lbs. (1.7 kgs) of material. Assuming a thickness of 3/8 inches (0.95 cm), one cartridge of EZ~Spray® Silicone 20 will cover approximately 1.66 sq. ft. (0.15 square meters).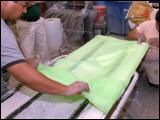 EZ-Spray 35 Silicone is een spuitbaar polyadditief siliconen systeem met zeer snelle verwerkingscyclus. De silicone is na een uur uitgehard met een shore waarde A35. Deze rubber is geschikt voor het gieten van kunstharsen, schuimen, gips, cement/beton mortels enz.