SMASH!® Plastic is a urethane liquid plastic designed to shatter/crumble on impact ("breakaway glass"). SMASH!® is water clear and, once fully cured, shatters like glass. It can be cast solid in thin sections to make window panes or rotationally cast to form hollow bottles, jars or other glass-like objects to be used as breakable props for movie and stage productions. Maximum recommended thickness is 1/8" (0.33 cm.).
SMASH!® is a room temperature cure system that is easy to use - mixed 1A: 1B by volume (1 cup + 1 cup). Low viscosity ensures easy mixing and pouring. Cured castings are UV RESISTANT. Vibrant colors and color effects are achieved by adding pigment

Rubber Glass wordt gebruikt voor gebroken glas effecten. Het breekt in kleine scherven die het uiterlijk en de brekingsindex van glas hebben.
Encapso-K wordt eveneens gebruikt voor gebroken glas effecten maar is in eerste instantie bedoeld als "water" voor droogbloemen.


Rubber Glass® II is an improved tin-catalyzed silicone rubber product developed specifically for special effects and display applications. Two liquids (3 Parts A + 1 Part B) are mixed together and poured into a container. The mixture cures overnight to a solid water clear rubber that can then be easily broken or "crumbled" into pieces that look exactly like broken glass, ice or diamonds. Vibrant colors are possible by adding SilcPig® liquid color pigments. Rubber Glass® II is can be used to create a variety of special effects (i.e. simulated broken glass where human contact is required) and model effects (i.e. artificial ice or water). It can also be used for electronic encapsulation applications.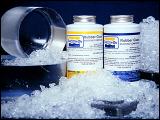 Encapso K® Water Clear Encapsulation / Display Rubber

Encapso® K is a water clear encapsulation rubber that looks just like water and is ideal for a variety of encapsulation and display applications.

How Does Encapso® K Work? - Two clear liquids (Part A and Part B) are mixed together in equal amounts. The mixture is then poured around artificial flower stems or over an object. Mixture turns from liquid to a solid, soft rubber over night. When cured, Encapso® K simulates water and will last a long time.

Encapso® K Advantages;

• Non-Hazardous & Non-Toxic - No dangerous chemicals
• Soft, Clear Rubber Lasts A Long Time
• Easy To Use - Mix two liquids in equal amounts and pour
• UV Resistant
• Cures without generating any dangerous heat or fumes
• Minimal Bubble Entrapment
• Cures perfectly clear - Looks just like water
• Cured rubber can be removed from object

Applications for Encapso® K

This rubber is perfect for encapsulating artificial flower stems to create artifical water for floral displays. You can also pour Encapso® K around just about any inanimate object to encapsulate for display. You can also create a variety of display props and novelty items. Encapso® K can be used to create water/pond effects for small scale model environments. Fully cured Encapso® K can also be crumbled to look like broken glass, diamonds or ice. Add color to Encapso® K with Silc Pig® or Ignite® liquid color pigments.